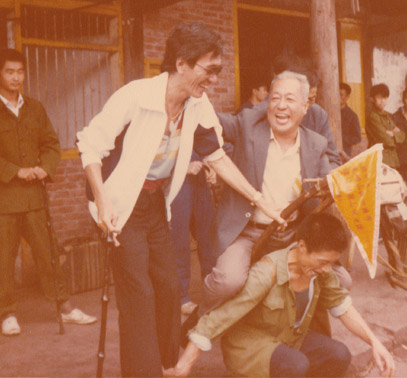 Our Philosophy
"To Serve Personally with Dedication as a Friend"
The Founder Late Mr Ang Yew Seng serviced his community through his business, as well as generous contributions to Hospices, charitable organization and old folks homes. Today, we continue to serve the community with this philosophy in mind.
Our History
The founder of Ang Yew Seng Funeral Parlor had a very humble beginning. The second child in a family of 9 children, Mr Ang started helping and managing the family's finances from a tender age. At 12, a simple road-side stall selling noodles was where Mr Ang began his first steps into the business world.
Mr Ang was handy with his tools and enjoyed doing household repairs – but more than that, he enjoyed innovation and making things even better.
His first exposure to the funeral parlor industry was at his Uncle's shop then, one of the leading casket makers in 1960's Singapore. The specialized tools, as well as the need for attention to detail, drew the young boy towards the casket making trade. He became his Uncle's apprentice and the first seeds of Ang Yew Seng Funeral Parlor were sown.
The 1960s and 1970s were a heady time for Singapore. As its population boomed, land scarcity became a national concern; the government began to actively encourage Singaporeans to opt for cremation instead of the traditional burial methods for their loved ones.
However, Mr Ang quickly realized that many in the local Buddhist community were not open to this move, as it meant they had to switch to imported Western caskets made of more easily cremated materials, but created with Westerners in mind and lacked traditional Buddhist designs and layouts.
In order to cater to this gap in the supply, Mr Ang began to swiftly re-decorate and re-design the imported Western caskets with motifs and ornaments reflecting traditional Buddhist sensibilities – swastika logos and lotus flowers for example were added to the imported coffins. And thus Mr Ang's first business, Ang Yew Seng Cremation Undertaker was born, with its first office at Thomson Road.
Mr Ang approached the late Reverend Hong Chuan from Bright Hill Temple and presented him his new adapted caskets as a viable solution to Reverend Hong's followers at the temple which was also operating the Bright Hill Crematorium at that time. The new caskets took off and were well received by local Buddhists, who also began to accept cremation.
Mr Ang also grew to become a trusted disciple and assistant to Reverend Hong Chuan over the years, accompanying the Reverend to important functions such as the late Singapore President Benjamin Sheares' state funeral in 1981.
Care Team
At Ang Yew Seng Funeral Parlour, we are families too. That's why we treat your loved ones the same way we would treat ours – with respect, dignity and patience. We constantly seek to provide an environment that is safe and comforting for you and your loved ones. During this difficult time, you can trust our family care team to go beyond the call of duty  to ensure everything is done smoothly and your wishes met.